Home » Apartments
Aparthotel de Mar Banjole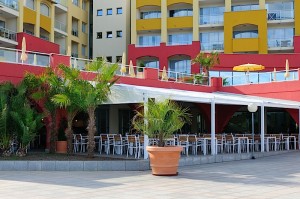 Aparthotel de Mar is situated in Banjole, a fishing village just off Pula. The trendy name sounding establishment, 4 kilometres away from civilisation and culture amenities, is actually an apartment settlement set against the blue sea and the green of pine. It is actually advertised as "a blend of hotel service and home", and as such it is perfect for family holiday making. The beach is a combination of pebble and rock, but there is also the pool.
Rooms and suites at Aparthotel de Mar:
There are 280 apartments within the Aparthotel de Mar, 187 of which enjoy sea view. The rest overlook a nearby pine forest. Absolutely every one of apartments has a private balcony where you can rest and dwell on cares such as air temperature. These come in three sizes: studio apartments, one and two room apartments. You are bound to appreciate the kitchen, together with the area for dining. The apartments also have direct line phones and air conditioning, a safe, a hair-dryer, SAT TV and smoke detectors fitted in.
Facilities at Aparthotel de Mar:
If you cannot be without the net, there is no reason to forego it here either. This unique apartment hotel in Istria features an internet point. Whether you want to shoot some pool at a bar, take a relaxing massage or indulge in sports, you will be taken care of – and so will your children, for there is a special playground designed for them. The playground also includes an animator for kids, with such attractions as "baby dance". As for adults, everybody rents a car, why not rent a boat? Yes, you can do that here. At some additional charge, there are tennis courts, a football yard and beach volleyball available just a few steps from the hotel. The cuisine is a happy mix of international blends, while the hotel also possesses own pizzeria and a pastry-cum-cafe shop.
Hotel contact information:

MARINA IBACOM d.o.o.
Address: Glavica 7, Banjole, 52100 Pula, Croatia
Tel. +385 /52/ 650 500
Fax. +385 /52/ 382 729




Photos of Aparthotel de Mar Banjole:

Tags: Accommodation, Apartment