Home » Campsites
Camp Puntizela Fažana / Pula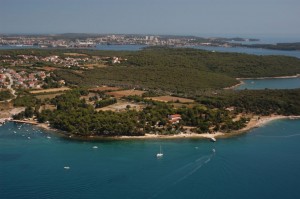 Camping Puntizela, is situated on 25 hectare land plot along the coast between Pula and Fažana, the camp with space for app. 1200 guest is situation in beautiful nature surroundings.
The camp-site is divided into five main zones: Borik and Plaza directly at the water and Cvjetno naselje, Maslina, Poligon in the rows behind, maximum distance to the pebble and rocky beaches is 200 meter.
On the camp there is typical Mediterranean vegetation with pines, olives and Adriatic brush, most of the plots have nice shadow, electricity is available on most plots.
Facilities Camping Puntizela:
The campsite has a grocery store, a kiosk with newspaper as well as fruit and vegetable kiosk, the camp restaurant with a nice outside terrace is situated only 40 m from the sea, two coffeepots, a pizzeria and a barbecue stand completes culinary offer. At the camp you can also exchange money in the exchange office and we of course also have telephones if you need to call the family back home.
For those who want to exercise during the holiday, we offer sports grounds, an aqua park, an the renal of various beach equipment. Last but not least we have a diving club on the camp.
Entertainment and animation program for both children as well as adults is of course also available.
Mobile homes:
In Camping Puntizela there is also possibility to rent a nice mobile home situated next to the beautiful beaches. In the standard mobile homes there is kitchen and living room, bathroom with shower and covered terrace. There is also option to rent a special version of the mobile homes called Prestige, with 29 m² area, two bathrooms. Prestige mobile homes are located on a 150 m² plot.

Lots:
Camping Puntizela has around 400 pitches, situated in shady Mediterranean vegetation, the lot sizes vary from 84to a 150 m2, main part with electricity. On the camp there are several sanitary buildings, the camp has a maximum capacity of app 1200 people.
Lots: 84-150 m2, electricity in immediate vicinity
Distance to larger cities in the Area
Distance Pula Centre 7.8 km app 15 minutes drive
Distance Fažana Centre 4.8 km app 10 minutes drive

View Camping Istrien / Campsites in Istria in a larger map
Photos from Camping Puntizela:
Tags: camping istria, camping pula, mobile homes