Home » Campsites
Camping Bi-village Fazana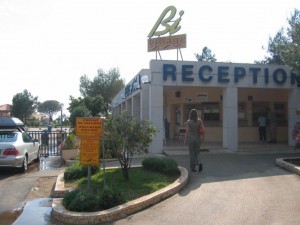 Camping Bi-village is one of the absolute top campsites on the Istrian peninsula, the camp is situated just south of the tourist village Fažana, overlooking the Veli Brijuni Island, the main island in the Brijuni Island and the home of the National park Brijuni.
The camp has app. 1100 pitches, all equiped with electricity and water. The sanitary facilities of the camp are according to European standards, in total there is 5 sanitary buildings. For an extra fee guest can book a private / family bathrooms in any of the 5 sanitary building.
Sanitary facilities for disabled person as well as an area for changing of babies are also available.
The camp is divided in to a non reservation area, where guest can freely choose their pitch, and 3 zones where reservation is required, each of the 3 reservation zones has different shift days (Tuesday, Friday, Saturday).
The camp offers Villas, Apartments, Luxury rooms as well as mobile homes for rent.

Facilities:
In terms of facilities, Bi-village has more or less everything, basic facilities like laundrette and internet cafe are complemented by, a Call shop, a gift shop, a supermarket and several other shops. Large parts of the pitch area have Wi-Fi access, so you sit in your tent and check the news from home.
Eating possibilities at Bi-village is of course also available, campers have three restaurants, offering international kitchen at their disposal, as well as a Sandwich-bar. Guest who wants larger selection, can take a walk to Fazana centre, where more restaurants can be found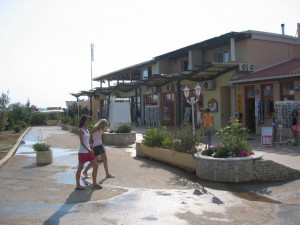 For the smaller ones Bi-village is a real entertainment Mecca, the animation program covers, games, creative laboratories, mini-club, junior-club and for the larger kids a teen-club. Of course the kids can also enjoy in one of the 3 new swimming pools. The instructors for the kids sports program are educated rescue and fitness-trainer. In the evening, the animation programs has various events running, which among others include discothèque nights
The sport facilities at the at Bi-village, includes a pitch for Beach volley, handball / football and Basketball, water sports like windsurfing, diving tours with a banana boat is also part of the camps program. For seniors the camp offer specialized fitness program.
Lots:
The Camp Bi-village has around 1100 lost, situated in shady Mediterranean vegetation, the lot sizes vary from 60 to a 120 m2, ALL with electricity and water.
Lot A: 90-120 m2, max. 8 persons, electricity supply
Lot B: 70-90 m2, max. 6 persons, electricity supply
Lot C: 60-70 m2, max. 4 persons, without electricity supply

Distance to larger cities in the Area:
Distance Pula centre 7.7 km app. 13 minutes drive
Distance Fažana centre 1.2 km app. 3 minutes drive

View Camping Istrien / Campsites in Istria in a larger map
Contact details of Camp:
Address: HR-52212 Fazana, Croatia
Tel: +385 52 300300
Fax: +385 52 380711
GPS: N 44 55.039 E 13 48.670
Tags: camping istria, camping pula, mobile homes