Home » How to get to Pula, Top Story, Usefull Information
Pula Airport – Airport bus and transfer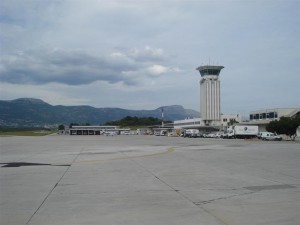 Pula airport is situated less then 10 km from the city centre in Pula, the airport is very small and not particularly modern, but as a holiday hub it works fine. Inside the airport there is a kiosk, several ATM machines, a coffee bar and several car rental companies.
List of companies flying to airport:
During winter, Croatia Airlines is the only company flying to the airport. During summer season there are numerous companies and some of them are: Austrian Airlines, Ukraine International Airlines, Belarusian National Airlines Belavia, Rossiya, KrasAir, KMV, Europe Airpost, Europe Airpost, Jat Airways, Flyglobespan, Polet, Siberia, Transavia airlines, Germanwings, Ural Airlines, FlyNordic, Malmo Aviation, AeroSvit, Ryanair, Air Mediterranee and many more.
Distance to Major Cities in the Area:
Distance from Pula airport to the center of Pula is 8 km and it takes 12 minutes to get there.
Pula airport→Rovinj – 38 km: 41 minutes
Pula airport→Poreč – 54.6 km: 52 minutes
Price of taxi to these cities:
If you take a taxi you will pay 20 kuna for the start and 10 kuna for every next kilometer. If there are 1-6 persons, the price for one kilometer is 12.50 kuna; for 7-8 persons, 15 kuna. Waiting costs 100 kuna/an hour.  So if you go from the airport to Pula you will pay around 100 kuna for 1 to 6 persons.
IMPORTANT – Airport bus rules, prices etc, and how does it operate (connect to Croatia airlines?)
Transfer of passengers from the Airport to the city of Pula and vice versa is organised by Brioni buses only in accordance with Ryanair which flies three times a week during summer, on Tuesdays, Thursdays and Saturdays. The buses leave shortly after the plane lands. From the city, the buses leave: on Thursdays at 10.50 AM; on Thursday s at 9 AM and on Saturdays at 10.50 AM.  You can find more information about the airport bus here
Public bus to the Airport:
There is no public bus to the airport.
Airport transfer – Companies offering Airport transfer:
There are several companies offering airport transfer which has to be pre-booked. The transport is done by different vehicles depending on the number of persons. you can see transfer offers from to Pula airport to lots of destinations in Istria and Croatia here. if you have larger groups you also have option to rent a regular bus, avalibility depends on the destination you are going to.
Price for transfer to cities mentioned above:
Transport for 1-3 persons from Pula airport to the city centre is 37 Euros, for 4-8 persons the price is 42 Euros.
The Airport Codes
Identification code: PUY
SITA code:
AFTN code:
ICAO classification
Parking at the airport :
There are two sections at the parking place: section A and B. Section A is for cars and section B is for cars and buses. Parking is currently free of charge, this might although change for the summer season.
Car rental:
Address and contact details (phone number, webpage etc)
Zračna luka Pula d.o.o., Pula Airport Ltd.Valtursko polje 210,P.o.b.89, 521000 Pula, Hrvatska
Telephone: ++ 385 52 530 105, Fax. ++ 385 52 550 914
Website: www.airport-pula.com
Email: zracna-luka-pu@pu.t-com.hr
Click on the map to find information about "how to travel from Pula airport" to varius destinations.

View Travelling from Pula Airport in a larger map
Tags: Getting to Pula