Home » How to get to Pula
Getting from Ljubljana airport to Pula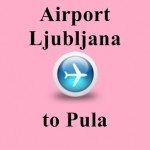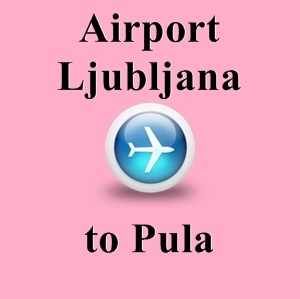 The Ljubljana airport, Jože Pučnik, is situated 26 km north of Ljubljana city centre and approximately 225 km from Pula. From the airport there is bus to the Ljubljana main bus station. The airport bus departures every hour on weekdays and every second or third hour during weekends.
If you are travelling to Pula from the airport in Ljubljana, you have the following options in terms of transportation:
By car, majority of the road between the airport in Ljubljana and Pula is highway, the shortest route goes Via Koper and the border crossing in Dragonja. This route has an estimated travel time of 2 hours 30 minutes. There is an alternative route via the border crossing in Jelšana which has the same length but fewer highway km and therefore an estimated travel time of 2 hours and 50 minutes. If you travel with your own or a rented car, remember to buy a Vignette in Slovenia.

Car rental offers from rental companies

with office at the airport you can find here.
Transfer, a transfer from the airport to Pula is a bit pricy, but nevertheless, of course, possible. Normally transfer is offered for 1-3 persons with a regular sedan vehicle and from 4 to 8 persons with a minivan. You can check prices and pre-book a transfer here.
By Bus, there is NO direct bus from the Ljubljana airport to Pula. You first have to take the airport bus to the main bus station, from the main bus station there is a limited number of departures to Pula. You can find the departures times here. Alternatively, you can check out the connections via Trieste in Italy.
By Taxi, well if you are left without any other option, you of course have the option to take a taxi from the airport in Ljubljana to Pula, but be aware it will cost you a few bugs.
Feel free to leave a comment below if you have any questions about travelling from the Ljubljana airport to Pula.
Tags: Getting to Pula